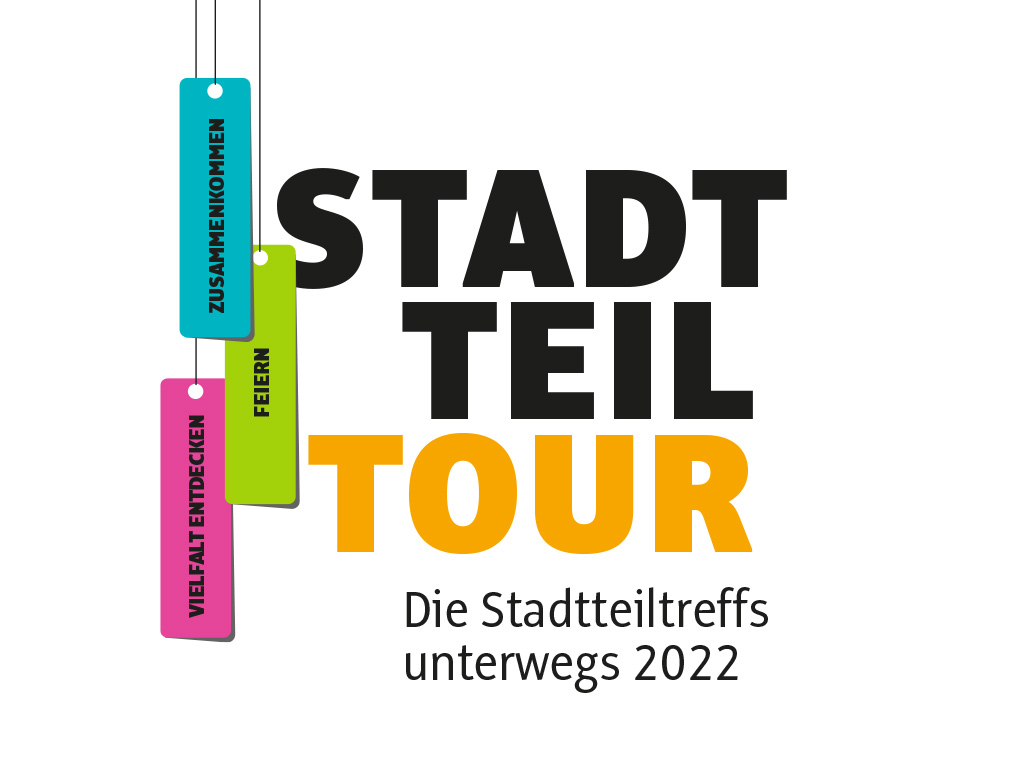 zusammenkommen – Vielfalt entdecken – gemeinsam feiern
Die Stadtteiltreffs der Innsbrucker Sozialen Dienste (ISD) touren 2022 durch Innsbruck und machen an öffentlichen Orten in sechs Stadtteilen Halt. Mit dabei ist der KOFFER:RAUM. Ein Anhänger gefüllt mit Tischen, Stühlen, Spielen und vielen kleinen Programmpunkten. Rund um den KOFFER:RAUM kann man sich treffen, Initiativen, Vereine und Angebote aus dem Stadtteil vorstellen und gemeinsam feiern. So wird die Vielfalt des kulturellen Lebens in den jeweiligen Stadtteilen sichtbar. Es gibt viel zu entdecken!
WILTEN | 10. - 14. Mai 2022
Initiativen, Organisationen und Bewohner:innen aus Wilten haben gemeinsam ein vielfältiges Programm entwickelt: Kreativ wurde es am Dienstag, sportlich am Mittwoch. Am Donnerstag diskutierten wir zu Stadtteilthemen. Reparieren und Garteln stand am Freitag im Mittelpunkt und am Samstag wurde gefeiert - mit Spielefest, Musik und einem Koffermarkt.
Lasst uns zusammenkommen, Vielfalt entdecken und gemeinsam feiern.
Weitere Infos gibt es online beim Stadtteiltreff Wilten oder auf ihrer Facebook Seite
SAGGEN & DREIHEILIGEN | May 17 - 21, 2022
From Tuesday to Saturday there is a colorful program- from storytelling cafe, concerts, to sports and workshops. Everything from and with people from the districts Saggen & Dreiheiligen. On Saturday there will be a real party at the Bogenfest - with a games festival, interactive stations on district work and information booths. Let's come together, discover diversity and celebrate together.
If you want to find out more in advance, you can do so on the Facebook page of the Stadteiltreff Bienerstrasse.
The program at a glance (Download as PDF)
HÖTTINGER AU | 07 - 11 JUNE 2022
It's time to focus on the diversity, the contrasts and the connecting elements in the Höttinger Au and above all to get to know each other! A colorful, eventful and moving program will be put together from Tuesday to Saturday by residents, initiatives and associations. At the district festival on Saturday, the already well-known motto "The Höttinger Au is alive" will be celebrated - with a suitcase market, a performative tour through the district, music, games and culinary delights. Let's come together, discover diversity and celebrate together.
More info on the Facebook page of the Stadtteiltreff Höttinger Au.
PRADL | JUNE 28 - JULY 02, 2022
The district meetings are on the road. A program by and for people who live or work in Pradl. Initiatives, organizations and residents are cordially invited to help shape the district week.
We want to reflect the diversity of the district with you. Colorful topics and exciting activities for young and old will find a place here. And on Saturday we will celebrate between the dormitory and JUZ Tivoli - with a games festival, music and many surprises. Let's come together, discover diversity and celebrate together.
Please visit the Facebook page of the Stadtteiltreff Pradl for more information.
The program at a glance (Download as PDF)
OLYMPIC VILLAGE | SEPTEMBER 13 - 17, 2022
A colorful and diverse program, put together by associations, institutions and residents, accompanies visitors through the district and to the square in front of the district meeting place: creative activities at the Grenoblerbrücke, moving things at the Inn and getting to know each other and celebrating at the square with a suitcase market, music and games. Come and tour with us.
Let's come together, discover diversity and celebrate together.
More info and program to follow!
You can also get an insight into life in the O-Dorf on the Instagram page of the Stadtteiltreff O-Dorf
The program at a glance (Download as PDF)
TU, SEPTEMBER 13 | 2-6 p.m. OH-LALA
CREATIVE
IN THE O-VILLAGE
2-5 p.m.: EBRU Marbling Workshop.

EBRU is an ancient oriental painting technique with colors. For all from 6 years. (with Nurdan Yaldiz)

2-5 p.m.: Graffiti - It's getting colorful!

Under professional guidance, panels of wood and cardboard are sprayed. (with Hannes Merkl)

2-5 p.m.: WAY TO GO! Mindful and creative on the way

Using stencils and spray chalk, we will design a special path around the Stadtteiltreff. (with Hobby Lobby Ibk)

15-16 h: Singing from 0 - 99 - It's fun (with John Craik, Tabea)
5-6 p.m.: TABE ART & Voices from the O-Village

With adhesive tape patterns are created on the glass surfaces in front of the Stadtteiltreff. Areas are kept free for wishes and ideas about the O-Village. For all.

Concert at the square with Strange Latino
MI, 14 SEPTEMBER | 2-6 p.m. O-MOBIL
FIT AND
MOVED
2-6 p.m.: Yoga for children

from 4 years, duration: 30 minutes. (with Nurdan Yaldiz)

2-6 p.m. Juggling. Make and try out balls yourself. (with Hobby Lobby Innsbruck)
2-6 p.m.: WAY TO GO! Mindful and creative on the way.

With one leg, in duck step or backwards - with fun and joy on the way. (with Hobby Lobby Innsbruck)

14-16 h: Self-assertion and self-defense course for girls

for 10 - 14 year olds. (with Derya Nonnato)

14-16 h: Bicycle taster course

for all from 16 years
Together, first driving attempts are made or driving is tried out again. (with Klimabündnis Tirol)

4 p.m.: Borrowing a city bike - how does it work?
4-6 p.m.: Walk through the O-Village with all senses (with Gabriele Forcher)
TUESDAY, SEPTEMBER 15 | 3:00 p.m. - 7:00 p.m. O-TONE
VOICES FROM
tHE O VILLAGE
15-18 o'clock: Open Doors

Clubs and institutions open their doors at the square: Stadtteiltreff O-Dorf, Aktivzentrum, Jugendzentrum Skyline, Verband Neuarzl Olympisches Dorf, Z6 Streetwork.

15-18 o'clock: Games from 4 - 99 years

Mill, checkers, chess & Co ... Discover and play board games together. (with wheel of fortune raffle)

15-17 h: Stick & Send! Send thoughts around the world

Postcards are designed using collage techniques. (with Nadja Haas-Kaiser, Andrea Wieser, Philatelists Club O-Dorf)

15-17 h: Neighborhood Café with Henna Tattoo

The Somali community is looking forward to your coming!

16-18 o'clock: Walk through the district O-Village

Strolling together from place to place, from conversation to conversation. (with Angelika Schafferer)

16-18 h: Speeddating - Hello Neighbor:in (with Zeliha Arslan)
6:30-7 p.m.: Concert on the Square with the Stadtmusikkapelle Speckbacher Neu Arzl / Olympic Village
FR, SEPTEMBER 16 | 10 am - 5 pm REPAIR
CAFE, GARDEN
aND MORE
10-12 a.m.: Making the O-village bloom

In front of the district meeting place and on the roof terrace of the middle school O-Dorf plants are planted under professional guidance. Together with students and people from the district.

14-17 h: Bees and flowers

Beekeeper Burgi shows you how bees live, how many different ones there are and what they need.

2-5 p.m.: Repair Café

Broken bicycle? A broken toaster? Come by. Experts will help you with the repair of everyday objects. (with IT-Syndicat, Sewing Café Nadelöhr and Re.Paro)

2-5 p.m.: Pflanzenkreisl

Exchange cuttings and offshoots

2-5 p.m.: Upcycling posters from the district tour

Bags will be folded from posters to carry home plantlets from the Pflanzenkreisl.

2-5 p.m.: Foodsharing
SA, SEPTEMBER 17 | 11 a.m.-6 p.m. CITY PARTY FESTIVAL
AT
LUGGERPLATZ
11 am - 6 pm
Varied program on the stage with music, dance and show performances by DJ Miljan, Strange Latino, dance group Bratstvo, Hozan Temburwan, Demba Diatta, Russkij Dom, SVO Linedancer, Johanniter, volunteer fire department, JUMO Speckbacher Musikkapelle, Stadtmusikkapelle Speckbacher Neu Arzl/Olympic Village, among others.
come and be part of it!
Organized by the Alp-Inn Association with the support of the VNO - Neu Arzl Olympic Village Association.
PARTYING TOGETHER - The STADTTEILTOUR as guest at the STADTTEILFEST at the LUGGERPLATZ
2 p.m.: Exhibition opening of Robert Jerlink (CREATIVE-LEGO) in the Stadtteiltreff O-Dorf
14-18 h: Suitcase market

Initiatives and residents from O-Dorf present themselves and their activities

14-18 h: Square parcour with Hobby Lobby Innsbruck
With a large children's games festival, upcycling games and many other surprises in the Olympic Park.
REICHENAU | SEPTEMBER 20 - 24, 2022
Encounter and exchange are the focus of the district festival in Reichenau. As part of the district tour, various program items with local initiatives and associations for young and old are offered during the week. On Saturday we invite you to the big celebration in and in front of our new Stadtteiltreff with musical and culinary program from the district.
Let's come together, discover diversity and celebrate together.
More information and program will follow!
And visit in advance the Facebook page of the wonderful Stadtteiltreff Reichenau